Why Do You Need to Change Your Oil Filter?
You know that you should get your oil changed regularly as part of your Mazda maintenance schedule, but did you know that you should change your oil filter every time you get an oil change? It's just as important as changing your oil! Learn why you should get an oil filter service, what an oil filter does, and more with help from our auto service center near Manhattan! Don't hesitate to contact us with any questions, and be sure to take a look at our service tips for more info!
What Does an Oil Filter Do?
While engine oil lubricates all of the moving parts in your engine, all that metal-on-metal contact still causes serious friction. That friction heats up various components and can cause certain parts to deteriorate over time. As parts deteriorate, they create residue and shed metal particles that can contaminate your oil. Your oil filter removes these particles, ensuring your engine oil is able to do its job unhindered as you drive around Mount Vernon.
How Often Should I Change My Oil Filter?
It used to be said that you should have an oil change every 3,000 miles, but these days, most drivers can go 7,500 to 10,000 miles between oil change services. And of course, you should change your oil filter every time you change your oil! Be sure to consult your owner's manual to ensure you're adhering to the proper maintenance schedule for your particular Mazda car, crossover, or SUV.
What Happens If I Don't Change My Oil Filter?
Not changing your oil filter can cause many of the same problems as not changing your oil. Decreased performance, fuel efficiency, and even engine failure can be caused by not changing your oil filter. As debris is collected by your oil filter, it can become clogged with particles, starving your engine of oil entirely! It's essential that you use a fresh filter every time you get your oil changed to prevent these issues.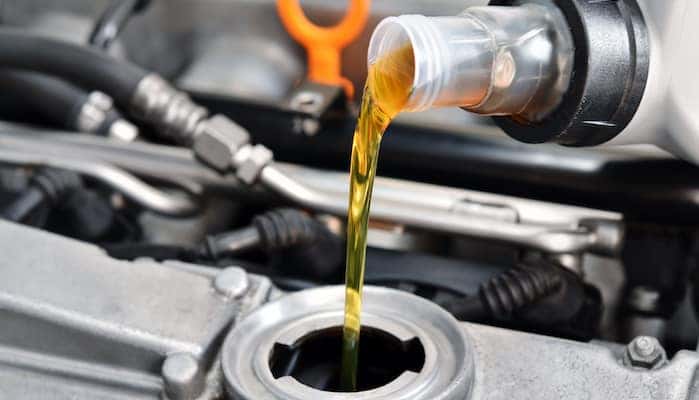 Where Can I Get An OEM Mazda Oil Filter?
No matter what Mazda OEM part you need, Mazda of New Rochelle can secure it for you at our White Plains-area Parts Department! From floor mats to filters, we have you covered. If you plan on doing your own oil changes, get in touch with our team, and we'll help you get the exact parts you need.
Trust Mazda of New Rochelle for Oil Change Service
Are you ready to get an oil change and oil filter replacement at Mazda of New Rochelle? Schedule service today! We'll help ensure that your Mazda continues to run like clockwork for years to come. Also, be sure to take a look at our service specials to see if we can help you save even more on your next oil change and oil filter service near Bronx!
Want to learn more about Mazda service? Learn about Mazda key fob batteries with our team!
Recent News from Mazda of New Rochelle
Are you looking at the sporty Mazda CX-50 crossover? You might want to take a minute to review your Mazda CX-50 trim options. There's a wide array of new Mazda choices available to buyers in Bronx, from the base S to top of the line Turbo Premium Plus. However, there's quite a bit of room…

The 2022 Mazda CX-5 is the next iteration of one of the most sporty SUVs on the road today. It's got an immaculately crafted interior, and it only gets better when you upgrade to a trim like the Signature. This is a unique SUV that gives you a little bit of luxury at a…

How much can a 2023 Mazda CX-50 tow? When you pick the 2023 Mazda CX-50 2.5 Turbo configuration for your Bronx daily driver, you can tow up to 3,500 pounds. We'll go into detail on how the Mazda CX-50 towing capacity varies by trim level as well as answer the question "what can a Mazda…