Where is New Rochelle, New York?
You've heard of New York towns like White Plains and Mount Vernon, but did you know that one of the most populated cities in New York State is tucked away in Westchester County? New Rochelle is one of the most lively towns in the Mid Atlantic, but many East Coasters can't even point to where New Rochelle is on a map. Learn more about this gem of a town, and start planning your trip to New Rochelle today!
What County is New Rochelle, NY In?
New Rochelle is located in Westchester County in New York, which is in the southeastern portion of the state. Westchester is one of the most populous counties in the mainland of New York, just after the Bronx. Not only is Westchester itself well-loved by New Yorkers, but New Rochelle was the seventh-largest city in the state as of 2007.
How Far is New Rochelle From NYC?
Learning how to get to New Rochelle from NYC is easy. The distance from NYC to New Rochelle is only around 15 miles, and you can take your pick of transportation when you're Manhattan-bound.
Car: Commuters can use I-95 and the Hutchinson River Parkway when driving into the city.
Plane: Westchester County Airport will link you to the three major New York airports.
Train: Amtrak lines and the Metro-North railroad line can take you anywhere you need to go, and the express train to Grand Central only takes around half an hour!
Bus: The Transit Center is the local hub for both busses and airport limousine services.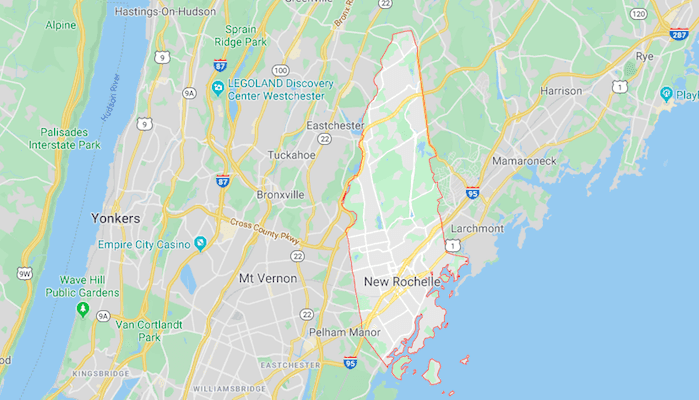 Directions from White Plains to New Rochelle
Head northeast on Main Street toward North Broadway
Turn right to South Kensico Avenue and left onto Westchester Avenue
Take I-287 East and take exit 12 to I-95 South, then exit 16
Stay on Cross Westchester Avenue until Cedar Street
Turn right onto first cross street onto Huguenot Street
Directions from the Bronx to New Rochelle
Head north on Hunt Avenue and turn left on Georgina Soccodato Way
Turn left onto White Plains Road and left onto Westchester Avenue
Take the first exit and merge to I-95 North/Cross Bronx Expressway
Keep to the left and take exit 16 to North Avenue
Merge onto Garden Street and left on North Avenue
Directions from Mount Vernon to New Rochelle
Head east on East Prospect Avenue toward North 3rd Avenue
Turn right to stay on East Prospect Avenue
Turn left at the first cross street onto Magnolia Avenue
Turn right onto 84/East Lincoln Avenue
Turn right onto North Avenue
Directions from Larchmont to New Rochelle
Head southwest on US-1 South/Boston Post Road toward Manor Place
Pass by Enterprise Rent-a-Car
Arrive in New Rochelle
What Can I Do in New Rochelle?
Whether visiting from Larchmont or out of state, New Rochelle is well worth the trip for its scenery alone. From yacht clubs to sailing schools and rowing clubs, the local shoreline offers the perfect spot for a day on the water. If you prefer to explore on land, New Rochelle's parks and nature preserves will take your breath away. We recommend Glen Island, which offers everything from a natural history museum to a beer garden to a Chinese pagoda!
Find Our More with Mazda of New Rochelle
At Mazda of New Rochelle, we're proud to call New Rochelle our home. Find out more with our New Rochelle guide, and if you need any help getting around the area, contact us!
Recent News from Mazda of New Rochelle
Are you looking at the sporty Mazda CX-50 crossover? You might want to take a minute to review your Mazda CX-50 trim options. There's a wide array of new Mazda choices available to buyers in Bronx, from the base S to top of the line Turbo Premium Plus. However, there's quite a bit of room…

The 2022 Mazda CX-5 is the next iteration of one of the most sporty SUVs on the road today. It's got an immaculately crafted interior, and it only gets better when you upgrade to a trim like the Signature. This is a unique SUV that gives you a little bit of luxury at a…

How much can a 2023 Mazda CX-50 tow? When you pick the 2023 Mazda CX-50 2.5 Turbo configuration for your Bronx daily driver, you can tow up to 3,500 pounds. We'll go into detail on how the Mazda CX-50 towing capacity varies by trim level as well as answer the question "what can a Mazda…